CONTINUING along the path towards a smooth transition, President Irfaan Ali and the Transition Team met with members of the diplomatic corps; members of the private sector; Permanent Secretaries of all Government Ministries and key stakeholders in the national COVID-19 fight on Monday.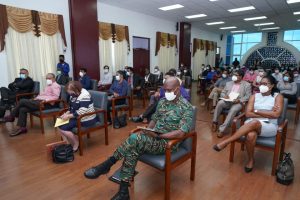 The meetings were all held at the Arthur Chung Conference Centre (ACCC), and with him during his engagement with the diplomatic community was Vice-President Dr. Bharrat Jagdeo. Together they met and held talks with US Ambassador Sarah-Ann Lynch; British High Commissioner Greg Quinn; and Canadian High Commissioner, Lilian Chatterjee.
The President; Prime Minister Brigadier (Ret'd) Mark Phillips; Vice-President Jagdeo; Attorney-General and Minister of Legal Affairs, Anil Nandlall; and Minister of Parliamentary Affairs Gail Teixeira also met with Permanent Secretaries of all Government Ministries. That meeting saw over 20 Permanent Secretaries in attendance.
The Transition Team later met with numerous members of the business community. Among notable attendees were Private Sector Commission (PSC) President Gerry Gouveia; PSC Member Kit Nascimento; Businessman Dr. Yesu Persaud; President of the Tourism Hospitality Association of Guyana (THAG), Mitra Ramkumar; and President of the American Chamber of Commerce of Guyana (AMCHAM Guyana), Zulfikar Ali.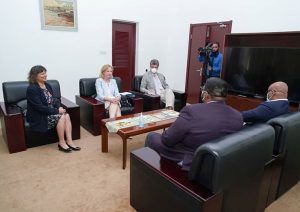 Areas of mutual interest were discussed.
On the subject of health, the team met also met with key stakeholders in the national COVID-19 fight. As of August 3, 2020, Guyana had 268 active cases, with 80 coming from Region Nine (Upper Takutu-Upper Essequibo) alone.
Over 35 persons were present at the meeting, inclusive of Chief-of-Staff (ag) of the Guyana Defence Force (GDF), Brigadier Godfrey Bess; Commissioner of Police (ag), Nigel Hoppie, and Director-General (DG) of the Civil Defence Commission (CDC), Lieutenant Colonel Kester Craig. Present this time, along with the team, was former Minister of Health, Dr. Frank Anthony, who is likely to be reinstated to the post.
President Ali is quoted as saying that the current pandemic is the single most important issue facing Guyana, and that it has serious implications for the country's economy.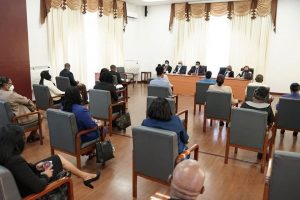 On August 2, 2020, when he took the oath of office, President Ali said that Vice-President Jagdeo will head a Transition Team comprised of himself, Phillips, Teixeira and Nandlall.
"This is a transition team, and very early in this week, you will see the full Cabinet in place, and we will, as I said, be moving towards an inauguration function where I'll detail in a more comprehensive way the path and the way forward," the President said.
In the meantime, he called on accounting officers of the Government to ensure that Government and State assets are protected for the PPP/C's transition.
1326total visits,1visits today