By Lisa Hamilton
THE construction of a bridge linking Guyana and Suriname, the sharing of oil- and-gas expertise, and joint efforts to fight COVID-19 are just some of the areas Guyana and Suriname will immediately commence working towards, following discussions between the countries' two Presidents.
During the engagement, which occurred at a working breakfast hosted by President Irfaan Ali at State House on Sunday, it was emphasised that both Presidents are interested in immediate action, and will therefore hold themselves to a goal-oriented timeline.
The discussions involved the President of Guyana and his Surinamese counterpart, Mr. Chandrikapersad Santokhi, and members of the local Private Sector Commission (PSC) and representatives of both governments.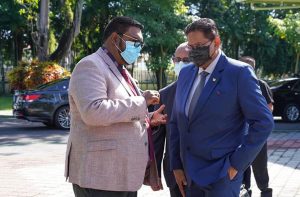 Also in attendance were US Ambassador to Guyana Ms. Sarah-Ann Lynch; Canadian High Commissioner Ms. Lillian Chatterjee; and British High Commissioner Mr. Greg Quinn.
Representing Guyana and Suriname on behalf of their governments were the Minister of Foreign Affairs of Guyana Mr. Hugh Todd, and Minister of Foreign Affairs in Suriname, Mr. Albert Ramdin; along with Guyana's Minister of Public Works, Bishop Juan Edghill, and Minister of Tourism Oneidge Waldron.
In his remarks to the media, President Ali said that within 24-hours, Guyana and Suriname were able to agree to collaborate in a number of thematic areas. These include, but are not limited to oil and gas, infrastructure, border and maritime security, COVID-19, mining, technology, agriculture, the 'green' economy initiative, and joint engagement on local content.
President Ali said the aim of the engagement was to support bilateral relations between the neighbouring countries; to open up new areas for cooperation from emerging sectors, and to develop infrastructure linkages beneficial to both countries.
"We recognise that our countries share similar challenges, circumstances and opportunities at this moment and it is very critical and important for us to work together to find common solutions," President Ali said, adding: "We need to set out an agenda that's proactive, an agenda with deadlines, an agenda with greater involvement of stakeholders in the society of both countries, especially the private sector."
Meanwhile, President Santokhi said in his remarks: "Yes, there is a historical cooperation with Suriname and Guyana, but from this moment, with these two leaders, there will be a value-added to that cooperation…We're not here only to discuss, but we're here to act."
A Working Committee will be set up at the policy and technical levels to advance discussions and to determine a timetable of action. "We're not talking about months; we're talking about weeks," President Santokhi explained.
It was noted that the cooperation between the two countries will be at the level of the two Presidents, and will also facilitate involvement with their private sectors, communities and the region. The Surinamese President also announced that soon, a written agreement will be formalised to back the plans.
On the matter of private sector involvement, it was announced that a joint chamber of commerce would be established between the two countries for mutual benefit.
In the area of oil and gas, the Apache Corporation, an oil and gas exploration and production company in Suriname, in recent years has discovered major finds offshore Suriname, proving even more fertile the Guiana basin.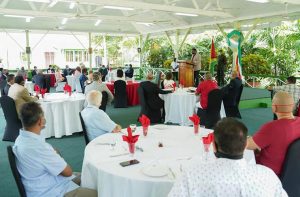 President Santokhi said that with his country's years of experience in the sector, it sees itself as an asset to Guyana in the area of training.
Meanwhile, regarding a bridge to Suriname over the Corentyne River, President Ali said: "That is high up on the agenda, but, of course, we now have to put that in a technical working group."
Discussing border security, even more crucial during the COVID-19 pandemic, the Presidents said that discussions have commenced on how the two countries should deal with back-tracking, the movement of goods, repatriation and improving on their health policies.
On the topic of maritime security, they both spoke passionately about addressing piracy attacks offshore the two countries which have caused many fishermen to perish.
"We've both agreed that we'll aggressively move forward; we'll aggressively pursue an agenda of action," President Ali said, adding: "I want to assure you that these are not just discussion and timelines; we have already established a timetable of meetings, and you will see, within weeks, an action plan leading to the accomplishment of some of these goals."
Also speaking briefly to the media, Minister Todd iterated that the two recently-elected Presidents have realised the opportunities which await their countries, if only they would work together more actively.
He said that the leaders have decided to do just that, and though they are both small countries, they both have the same prospects for development, especially in the areas of oil and gas and agriculture.
"We've recognised that if we work closer together, we'll be able to improve the lives and the standard of living of both of our peoples," Minister Todd said.
Meanwhile, Minister Ramdin highlighted: "Suriname and Guyana are almost 75 per cent of the geographic area of the Caribbean, two of the 15 members. That, in itself, should say something about the potential these two countries have to serve the Region."
In mid-September, the two countries will re-evaluate existing programmes between their two Ministries for improvement. At the policy level, there will be at least two meetings yearly, but, at the technical level, there will be multiple meetings in the near future.
Sourced from Guyana Chronicle 10-08-2020
1081total visits,1visits today