SAUDI ARABIA is seeking Guyana's support for its candidacy for the director-generalship of the World Trade Organisation (WTO). On Monday evening, the Arab nation's governor responsible for Foreign Trade met President, Dr. Mohamed Irfaan Ali at State House.
His Excellency (HE) Abdulrahman Ahmad H. Alharbi was accompanied by his country's Commercial Attaché in Washington D.C., Ahmed Abuzinadah, and Antigua and Barbuda's Minister of Tourism and Investment, Charles Fernandez.
Senior Advisor to Antigua's Prime Minister, Colin Murdoch, and Non-Resident Ambassador to the United Arab Emirates, Gilbert Boustany, were also part of the visiting party.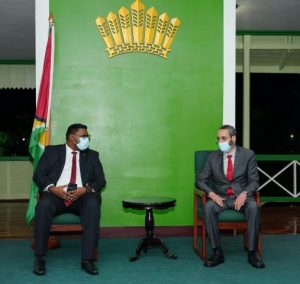 President Ali, along with Vice-President, Dr. Bharrat Jagdeo, and Minister of Foreign Affairs and International Co-operation, Hugh Todd, received the dignitaries at State House where a meeting was followed by dinner.
The party is here until October 2.
The process to become Director-General of the WTO began in July, after former Brazilian diplomat Roberto Azevêdo, who held the post since 2013, stepped down a year before his term expired.
Egypt, Kenya, Republic of Korea, Mexico, Moldova, Nigeria, and the United Kingdom are also vying for the post.
The new director-general should take up his post in a month's time.
The WTO is an inter-governmental organisation concerned with the regulation of international trade between nations. Guyana became a member in January 1995. (DPI)
853total visits,1visits today